A Festival of Digital Possibilities – Realized with Mubea E-Cargobikes
On September 20th and 21st, Cologne was under the sign of Digital X, which explored new pathways towards sustainable and people-centric digital coexistence in urban spaces.  As the official Cargobike logistics partner, we provided the event organizer with a large fleet of E-Cargobikes with various configurations, ensuring a quiet and emissions-free setup and supply for the event.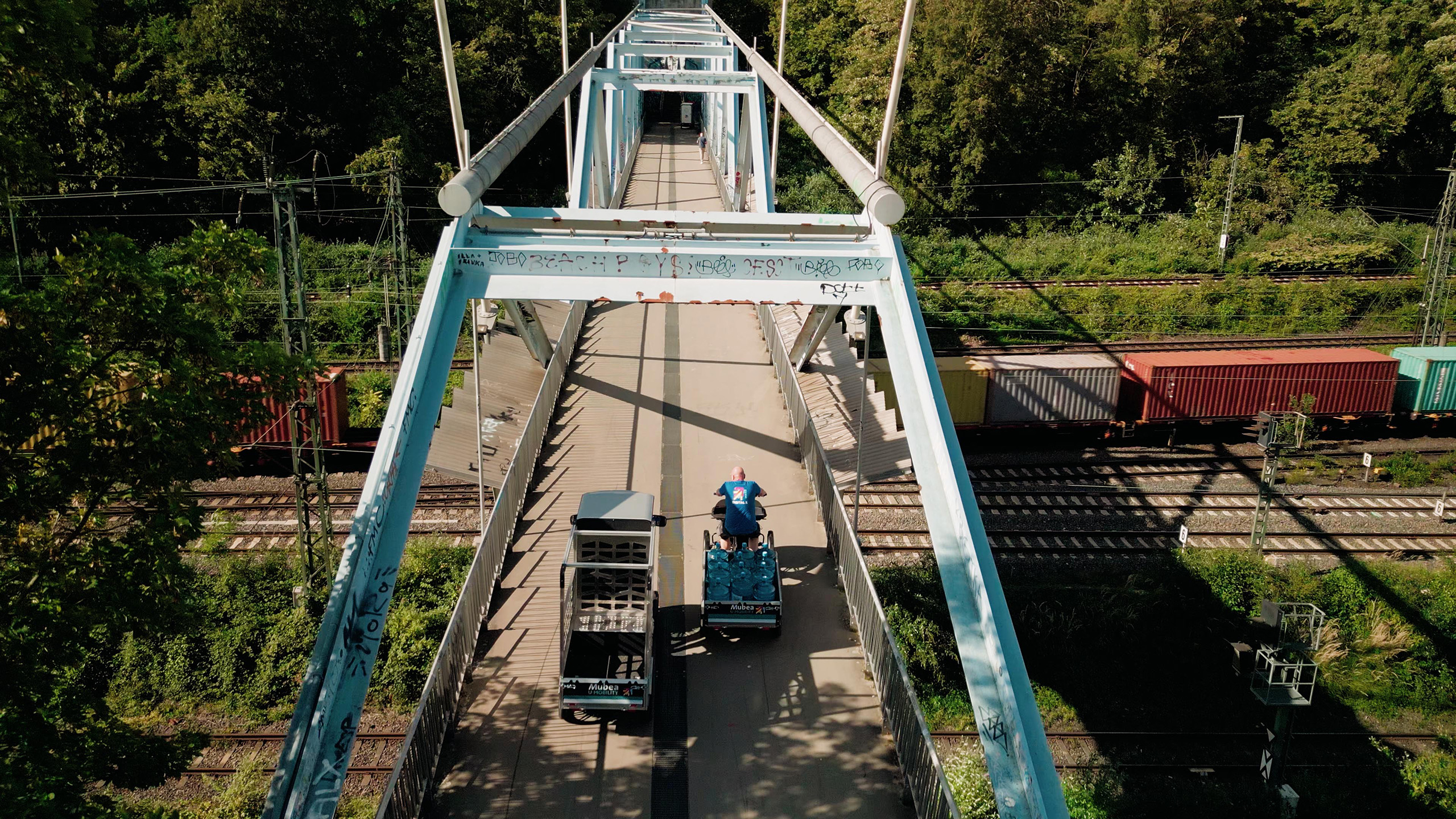 The city as a networked diversity – that could sum up the core idea of Digital X, an initiative by Deutsche Telekom. Accordingly, Digital X didn't just happen at one location but at four main venues across multiple neighborhoods in Cologne. Instead of traditional exhibition booths, places like pubs and restaurants served as information points. Consequently, the logistics for the executing event agency Uniplan were demanding before, during, and after the events, involving tasks such as delivering merchandise, event technology, water gallons, or printed materials to the respective event locations. Across the city, even during traffic-heavy times, right in the middle of the day.
Our E-Cargobike fleet, designed for various purposes with models like Cargo PACK, Cargo WORK, and Cargo PICK-UP, proved to be an efficient and clever solution for most transport tasks during the setup, during, and after Digital X. Eight to ten riders were on duty to supply all the neighborhoods occupied by Digital X from a central micro-hub – super flexible, fast, and taking the most direct routes. Our heavy-duty bicycles allow you to easily bypass traffic jams, even on bike paths and through parks. And in doing so, you'll earn more smiles than frowns.
So, our riders received a lot of attention and approving looks as they pedaled through Cologne with our Cargos. Perhaps not as much "wow" as the top speakers at Digital X – George Clooney, Barbara Schöneberger, and Frank Thelen – or cool live acts like Thirty Seconds to Mars. But our Cargos effectively conveyed our message: With Mubea U-Mobility, you're already riding into the future.
"Simply unbeatable", said Andreas Krause, Senior Project Manager at Uniplan, about the practical use of the Mubea Cargo fleet at Digital X. And after covering about 150 km, driver Markus had nothing but praise for the first-class technology, enthusiastically stating, "The bike runs superbly." You can watch the entire reaction to our E-Cargobikes and many great impressions from Digital X in the video below.
About Digital X
Around 50,000 visitors, 250 speakers on 6 stages, and 300 exhibitors were part of the event, on an area of 2,000,000 square meters in Cologne's city center. Prominent guests included Oscar-winning actor and human rights activist George Clooney, ABBA icon Björn Ulvaeus, futurist Amy Webb, entrepreneur Dr. Wladimir Klitschko, and cyborg activist Neil Harbisson.
Under the motto "Be digital. Stay human." current technological developments and megatrends – especially Connected Business, the Future of Work, Security, Sustainability and Responsibility – were scrutinized, exploring how the benefits of technology can be reconciled with humanity in a changing society.