Craft Transport Made Easy
Our cargobike gets around. At the beginning of March 2023, for the first time, we took part at the "Zukunft Handwerk" trade fair to show how our cargobike can also facilitate the day-to-day work of the crafts sector.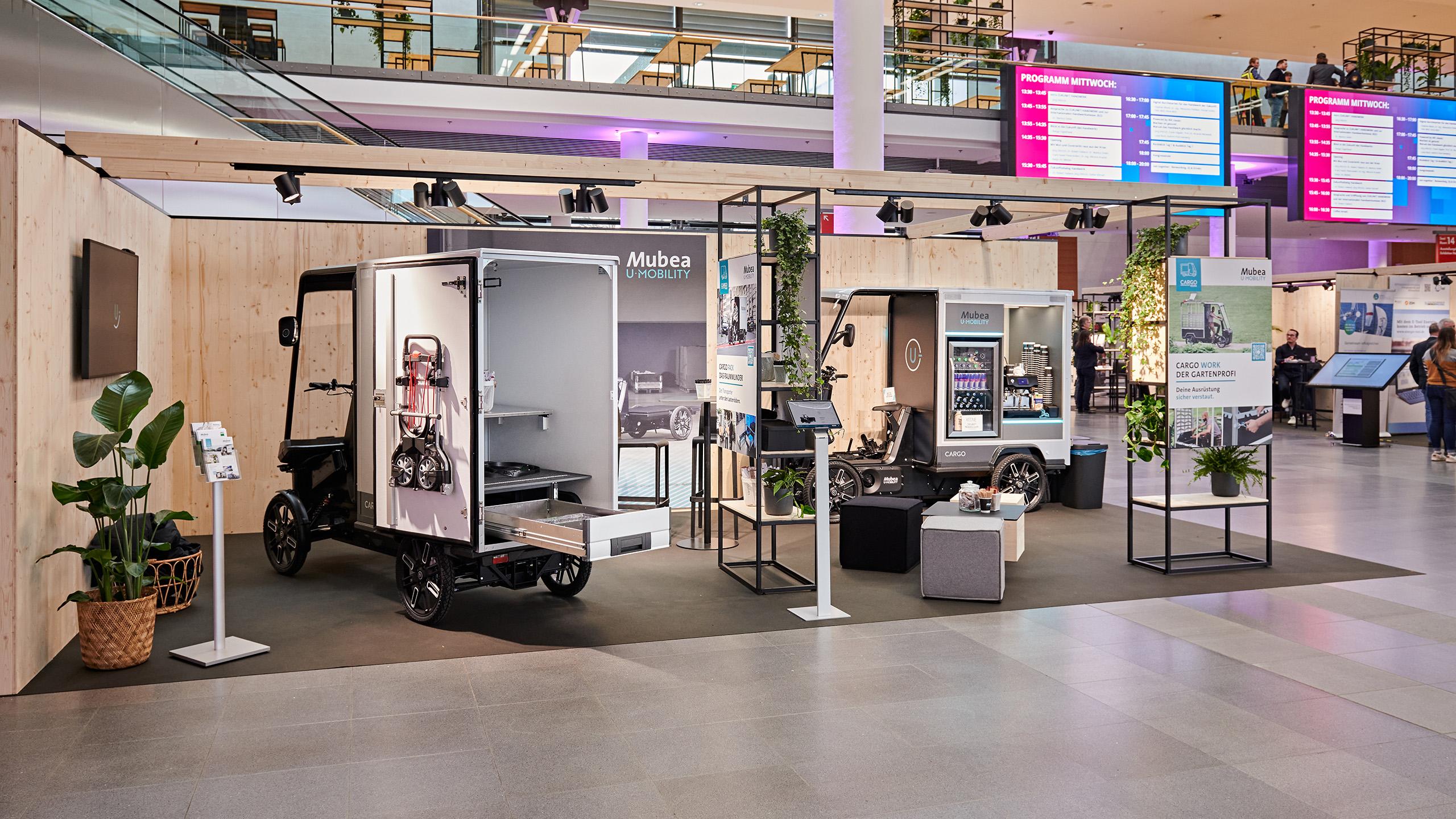 Dynamic, young and modern - even as we were setting up our trade show booth, we noticed that "Zukunft Handwerk" was approaching the crafts sector with a new and fresh concept. This is precisely the target group that our Cargobike appeals to – craftsmen open to mobile alternatives and changes that are getting increasingly necessary.
By visiting the fair, we approached that new target group and received their initial feedback and thoughts on possible areas of application for our Cargobike. The compact and light materials of our Cargobike was seen as an especially important benefit compared to other transportation methods.
Our new cargobike, with its closeable box and underfloor module, presents the crafts sector a solution for many of their daily complications. For this purpose, our already well-known transport box was adapted to this industry, in cooperation with our partner Bott, for in-vehicle equipment with special drawers and storage options.
For the craftsmen, this means: The covered cargo e-bike, with its closeable box and underfloor module, manufactured in cooperation with our partner Bott, is both a transporter and a mobile workshop that offers a payload of up to 200 kilograms. Whether work materials, tools, or spare parts - the cargo is interesting for a wide variety of craft trades that require traveling to the customer without bulky or raw materials.
In our discussions with chimneysweepers, master painters, bakers, locksmiths and electricians, we gained exciting insights into the future of the skilled trades. The crafts sector is looking for alternative mobility concepts since they are increasingly under pressure with regard to their mobility needs in city centers. Mainly due to traffic jams, car-free zones, or the lack of parking spaces. In the future, with our electric Cargobike, craftsmen will be able to drive past traffic jams via the bike lane.
Another major advantage is the fact that no driver's license is required to drive the cargobike. In our various discussions, it becomes clear that this is an enormously important aspect for the skilled trades sector – because most teams include at least one trainee. The fact that the Cargobike can be driven without a driver's license has generated interest by many craftsmen.
Nevertheless, there were attendees outside of the craft industry as well: German Chancellor Olaf Scholz, Dr. Markus Söder and Dr. Robert Habeck appeared as well from the world of politics.
Other faces such as Prof. Dr. Richard David Precht, Markus Lanz, Ranga Yogeshwar and other well-known speakers rounded off the conferences.
The social media sector was also well represented with the visit of several influencers from the craft sector. With mortician Luis Bauer(@luis.bauer._) to master painter Jessica Jörges(@buntezukunft) to master mason Julia Schäfer(@tschulique), and other stars of their own industry were present.
Through "Zukunft Handwerk" 2023 as well as its visitors from many industries, we were able to get to know the skilled trades better.
To conclude: The skilled crafts sector is still in its initial stages and needs an alternative urban mobility concept – this need will definitely continue to expand in the future.