In the city, for the city – our cargobike as a battery transporter
For some years now, it has been impossible to imagine cities without e-scooters. Electrically powered scooters are found on every street corner in major cities. But, how are the scooters' heavy batteries really replaced?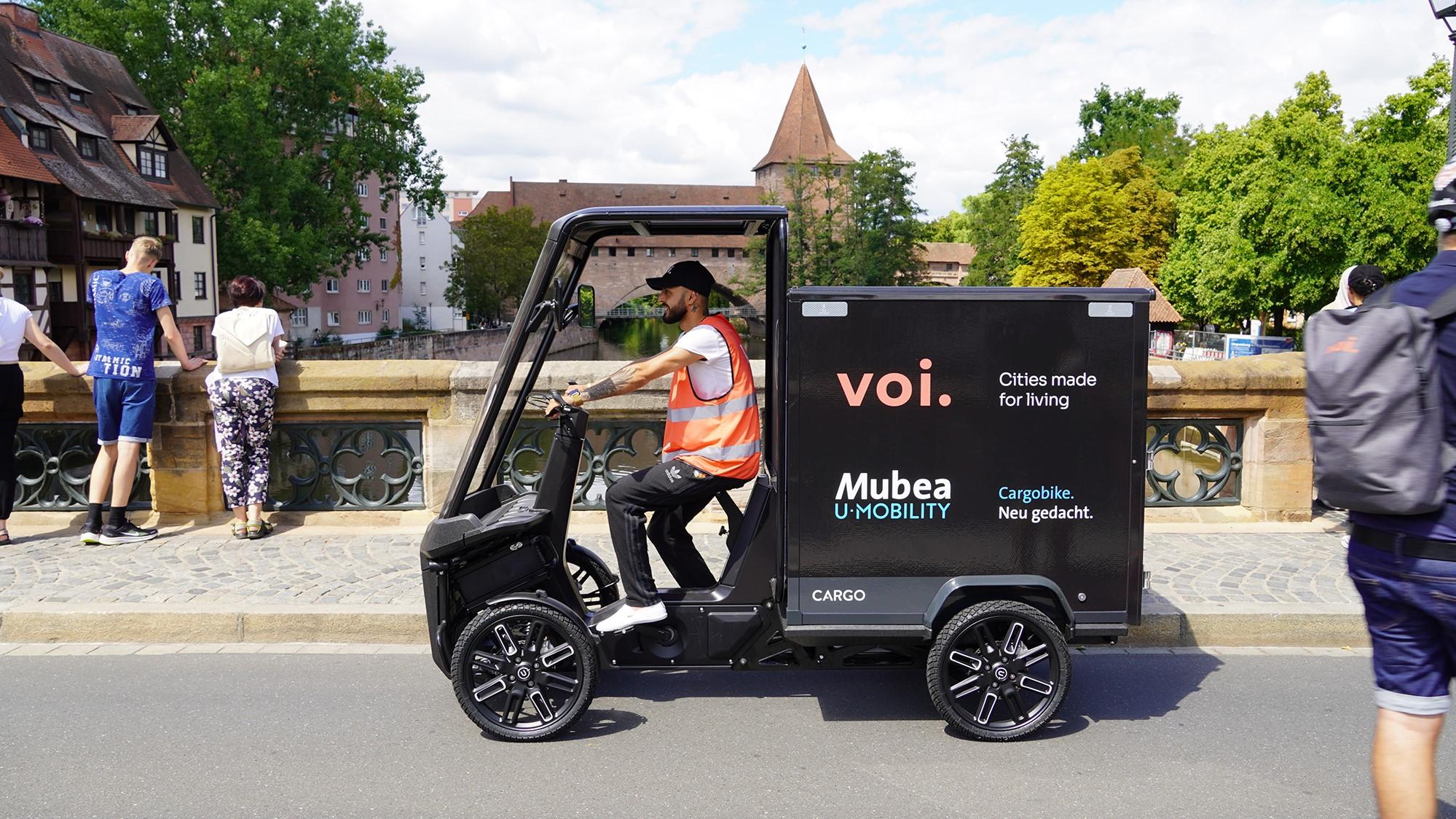 Often the scooters are scattered in the city center in car-free zones, inaccessible for cars. This is exactly where our cargobike comes in.
An integral part of the e-scooter market is the Swedish company VOI. In Nuremberg, they use our U-Mobility cargobike to deliver their batteries in the city center and the old town.
Cities are expanding their car-free zones more and more, making city centers increasingly inaccessible to vehicles. Deliverers and transporters who have to perform services in the city center are coming under pressure. This is also the case in Nuremberg. Politicians are lobbying for further expansion of car-free areas in the city center. Not only do they want the main pedestrian zone Königsstraße car-free, but also the surrounding side streets.
E-scooters and e-bikes, which are distributed throughout the city center and can be borrowed by anyone, are a sensible alternative here. 
The big feature: VOI is testing its own hub station for batteries and scooters. The station is located in the city center of Nuremberg.
Together with VOI, we are testing a concept that makes the process of changing batteries easy and convenient. Our cargobike has a fixed parking space in the inner-city Nuremberg Adler parking garage. There, the new batteries are loaded daily into our cargo, with which the driver can then start directly from the parking garage in the city and deliver the batteries.
Short distances, high mobility, and CO2-neutral – our partnership with VOI is a prime example of alternative mobility in every aspect.
Are you also interested in our Cargo or can you imagine a possible area of application? Here you can find more information about our Cargo PACK, as well as our contact form for questions.
If we have made you curious about VOI and their concept, you can click through their website here.
Additionally, you can have a look at the post about the use case on VOI's LinkedIn page.