Roadshow Hermes Germany
Our electric cargo bikes in the Hermes logistics center in Friedewald: On April 14th of this year, we visited the location in the Kassel region. We were given the opportunity to present our cargo bikes and to be part of an information event on sustainability.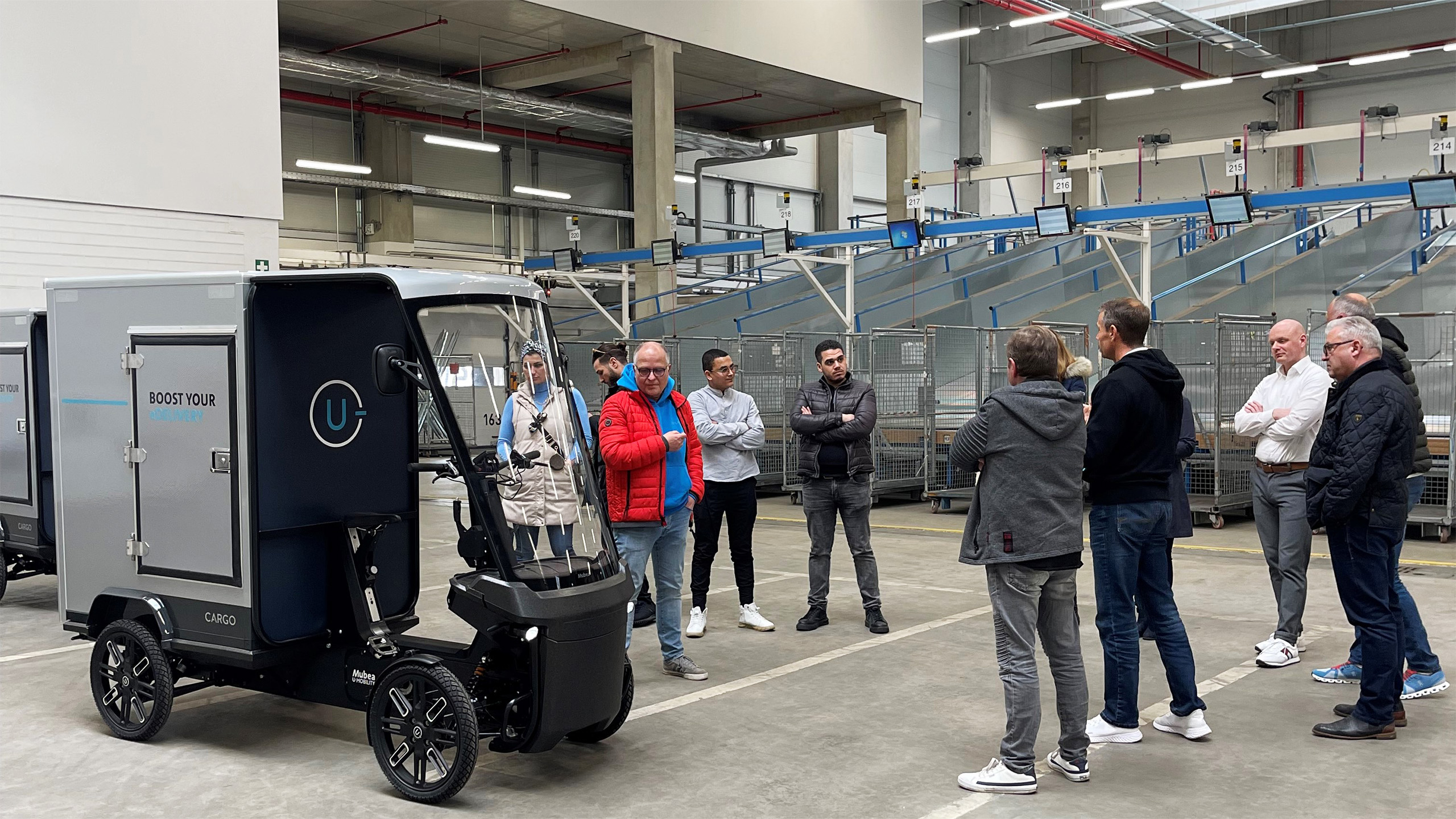 Sustainability is more relevant than ever and is becoming increasingly important for many industries - including the CEP industry (Courier Express Parcel services), which has already made some progress in regards to smart last mile solutions. Sustainability is also becoming ever more essential for Hermes Germany, the parcel logistics company is already in the process of making its logistics infrastructure and vehicle fleet more sustainable, step by step. In mid-April, an information event on sustainability was organized in Friedewald and interested entrepreneurs, contractual partners, and employees were invited to promote the topic of sustainability and create widespread awareness. As Mubea U-Mobility, we had the opportunity to give a presentation on our company and our e-bikes at this gathering.
During the event, there was a great interest toward our e-bikes from the participants. Being divided into two groups, the day was dedicated to sustainability and transformation of the "Last Mile". First, Martin Jugel, Sustainability Manager Operations of the Eastern Germany Region, presented Hermes Germany's strategic goals to the participants. The main goal: emission-free deliveries in the biggest 80 German city centers by 2025. In parts of Berlin, Hamburg, Leipzig, Erfurt and Nuremberg, parcels are already being delivered without local emissions; Halle/Saale and Munich are also in their starting blocks. In Leipzig, Hermes Germany is already successfully delivering parcels with several of our cargobikes. Tests in Wiesbaden have also been successfully completed in the past.
According to Hermes Germany, factors that need to be taken into account in green delivery are e.g. the existing charging infrastructure and the availability of green electricity and e-vehicles - regardless of whether they are cars, vans, transporters, or cargobikes. The framework conditions vary from city to city. Therefore, demand-oriented concepts with an individual mobility mix are the right choice for green delivery.
After the introductory words of Martin Jugel, our Key Account Manager David Feldmann presented our strategy, our company, and our vehicles. In addition to the technical details, David also presented the various service concepts and funding opportunities that we offer. Afterwards, there was time for a short discussion and a Q&A session.
After a short break, it was finally time for the interactive part: all guests were offered to test drive our cargobikes at the logistics center in Friedewald. During the subsequent feedback round, we received consistently positive feedback on the overall vehicle, but also on the chassis, the seating position and the brakes. In addition to the positive feedback, however, we also took away a valuable critique, which we will be sure to adapt: an acoustic signal while reversing. With this input in mind, we made our way back to the Sauerland to make our cargo bike even smarter, more practical and user-friendly.#
We thank Hermes Germany for the exciting exchange and the opportunity to have been part of this day! Together we can manage and drive the transformation of the "Last Mile".